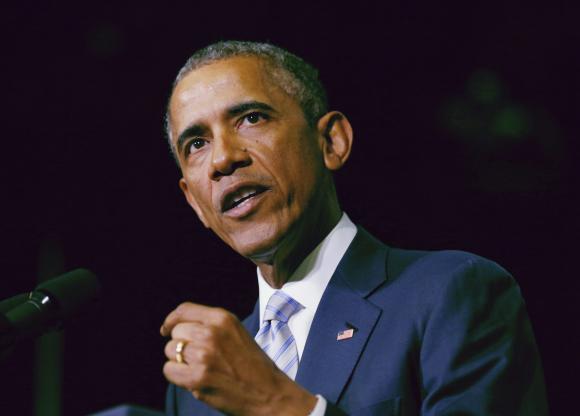 Barack Obama will highlight plans next week to protect American consumers and businesses from cyber threats, a month after the most high-profile hacking attack on a U.S. company.
Internet security became a national focus after a cyberattack on Sony Pictures that Washington blamed on North Korea.
Views:
live 4 surf
just saw a report on dirty boxes that picks up cell phone data used by fbi and law enforcement. seems some of the politicians are looking into this warrant less use of surveillance .seems the dirty boxes are on helicopters ,and .possibly drones. picking up a wide swath of cell phone data..
  Sure we all want better consumer protections, but are the politicians looking inward to check their abuse of privacy ? that should be the first step. since they can control that. if they wish to.
Wayne
Will Mr. Obama put forth a serious effort to curtail the spying on american citizens by our own government agencies such as the C.I.A, F.B.I, Homeland Security and other agencies supported by the taxpayer? Or will the emphasis be to protect big business and government departments from foreign hackers? Very little has been done by the Obama administration to date to stop our own government agencies from spying on it's citizens. Is it possible we can expect some future promised action? Our hopes aren't too high, and for good reason.
ObamaSucksCock
Cyberattacks started when America first did it to Iran. After that it was fair game for all. Americans are quick to point a finger at others for what they did first. But what goes around comes around and its come back to America. Forget N.Korea. Look at China the Pentagon knows for a fact that China hacked the Pentagon for all our future weapons of war and the latest fighter jet technology. And what has America done? NOTHING. Nope not a thing. We can't win a war with China and Washington knows it. Why do you think we have never retaliated ? reply here. Stop sucking up the U.S.propaganda. And learn the truth.America has fallen under the most dysfunctional Congress in U.S. History that the voters have placed in Washington. And Americans are paying the price for their poor voting !
Starstreamtracker
Obama is going to succeed in the government take over of the internet. It's for "our protection". Right, and Obama is pushing more centralized government control of everything.

The truth is that most cyber crime originates from insiders selling or being bought off for information and access. I would say that there are next to zero systems that can be tapped into without some bits of insider knowledge.

Don't trust the government when it comes to your security and privacy. The government has a proven track record of deceit, deception, outright lies and corruption. Oh, but Obama wants to protect us. I believe they're not lying again? It's legal for the government to even knowingly lie to you, and you have no recourse. Of course if you lie to the government they have recourse, it's called prison and heavy fines.