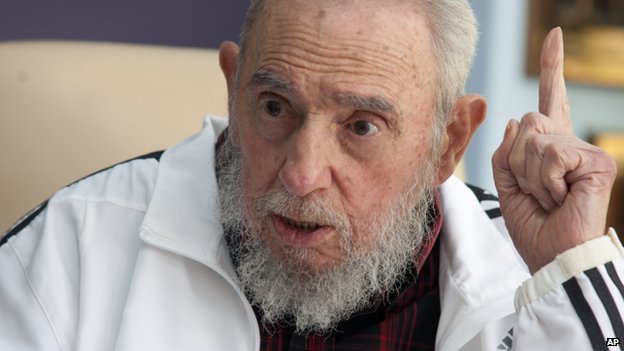 Cuban revolutionary leader Fidel Castro said that still does not trust the USA.He commented the process of resumption of diplomatic relations between the U.S. and Cuba for the first time.
Views:
Mishale

 
In politics there are no permanent enemies. No wonder the United States Government is now working closely with China, a communist country that has refused to embrace the Western style of democracy. It is in the realisation of todays changing trends in world politics that President Obama has sent clear signals that his government wants to have a working relationship with the Communist-led government of Cuba instead of isolating it.
Fixno Jones

 
Fidel's still a little gun shy. Can't blame him
We have tried to take him out a few times.
Gideon

 
Cuba does not need to change. America does. I was at a good freinds yesterday and I brought a Romeo y Juliete for him. His sister in law than said, "Fuck Fidel".... Why, I couldn't tell you. I am proud of my Cuban wife and my family in laws I travel down there as much as possible. I was there for the 2015 New Year and I couldn't purchase a bottle of water because the country is almost run dry and as Americans we couldn't help them at all.
... We have humanitarian visits all over the world but we (They) can't even help our neighbors. I can't give my and my wives life story about how difficult it was just to get her over here the legal way with help from our American Goverment, but it was a long tough road with alot of tears along the way.... Honestly I only would like the embargo to end so I can take my family to Disney World or to a Yankees game (vs Atl Braves of course). I don't want the embargo to end because I don't want Red Neck American's visiting my country, they don't deserve to see the beauty and happiness that surrounds Cuba. Go ahead and Keep Jamica and Cancun, I'll be in Cuba.