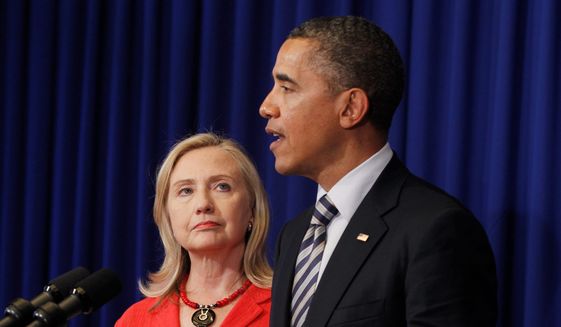 Hillary Clinton takes the top spot on a list of admired living women for the 13th year in a row, according to an annual survey released by Gallupon Monday.
President Barack Obama, meanwhile, is considered the most admired living man in any part of the world.
Views:
Hobbes_Wayne

 
What do people expect? It is not a matter of admiration, it is a matter of name recognition and media visibility. When there hasn't been a crisis to create a crisis, these two have dominated the airwaves for the last six years. Were there any questions as to why they were admired? Hillary spent million of taxpayer dollars on a global branding tour, could not state a single accomplishment and was indifferent to deaths of Stevens, Smith, Woods and Doherty when it came to challenging her image and Obama has been seen on the air more than many celebrities on weekly TV shows, plays golf when trying to avoid the real media and uses plausible deniability and his Praetorian Guard (Holder and the Ministry of Truth media (ABC, CBS, MSNBC, CNN, CNBC, NY Times))to protect his image.
Lilyfromthevalley

 
Wonder how much Hillary's posse paid Gallop to come up with that one? LOL! There's no way that's true; she's accomplished very little on the world stage and has enough questionable baggage to fill a long distance train.
As for Prez Obama, he has managed to turn this country into his own private wish list come true, regardless of our Constitution and continues to practically dare anyone to stop him! His numbers are low with regard to approval among us (if you believe in polls), so I say too that someone must have filled Gallop's coffers to come up with that one too, unless there just aren't any other worthy people out there.